Inform Yourself on Everthing Gates
Top 3 Most Popular Types of Automatic Gates for your Home
Automatic gates have been gaining a lot of popularity these recent years. Whether it be a home located on a busy street or a bigger establishment located far from the city, automatic gates work well in any scenario. Why have they gained so much popularity? The answer is simple. It's because they offer security, convenience, and an effective way to control the flow of people in and out of the property. While most people know and have seen automatic gates, most aren't familiar with the different types there are and how they work. This blog will go over the 3 most popular types of automatic gates for your home so that you can make the best decision when selecting one for your home.
1. Sliding Gates
Sliding gates are today's most popular automatic gates in residential homes. Also known as "v-track gates" or "rolling gates," they slide horizontally to open and close. Rollers are added to the gate for support and to aid in the gate's movement. Sometimes slide gates require a metal track to be installed along the ground for proper functionality. These gates are an excellent option for homes with limited space. Sliding gates are also the optimal choice for homes with inclined driveways. You won't have to pay to get the ground leveled as required for other automatic gate models.
Benefits of Sliding Gates:
Increased security
Less vulnerability in high wind situations
Aesthetically pleasing to the eye
Secured using gate automation
Ideal for homes with great width space
Works well for homes with inclined driveways
2. Swinging Gates
Automatic swinging gates offer homeowners both an attractive and secure option for homeowners. These gates swing open instead of sliding on a track. They're convenient as they can be designed to swing inward or outward. Homes with plenty of depth space often prefer this option. Swinging gates are also considered the safer option as they have fewer moving parts and less opportunity for hands or fingers to get caught. An underground or pillar-mounted system is usually used to install automatic swing gates. The thing about these gates is that they require a lot of flat driveway space, so this type of gate may not be suitable for every home.
Benefits of Swinging Gates
Less expensive than sliding gates
Are easy to install
Require less maintenance than a slide gate
Known for their elegance and "grand entrance" feel
Great security features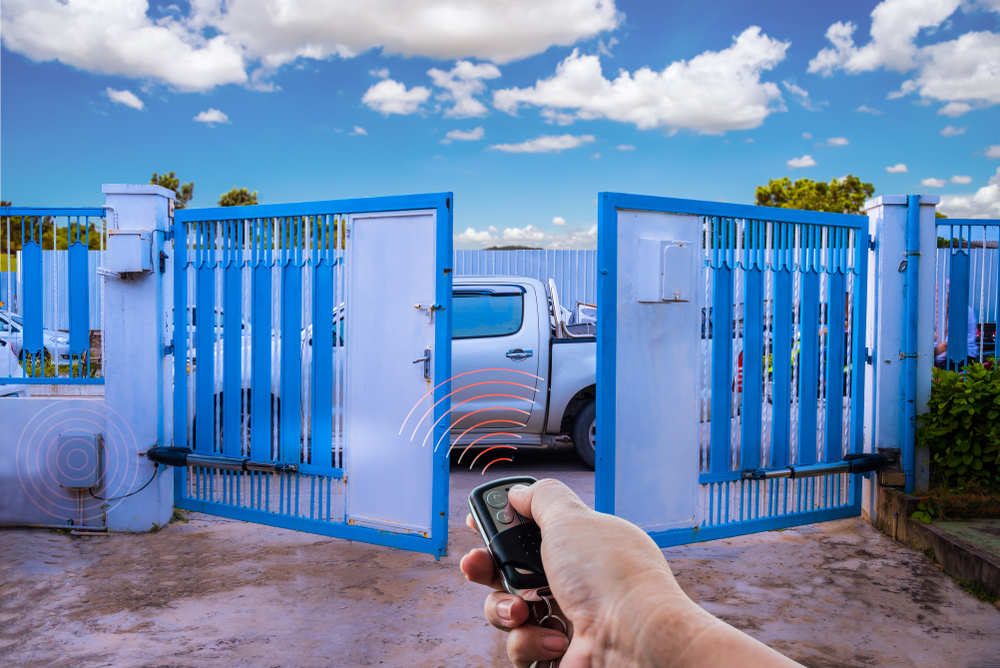 3. Vertical Lift Gates
While these types of automatic gates are not too common or well known, they are a great option for homes that don't have enough space for sliding or swinging gates. These gates require vertical support towers on both sides of the driveway in order for the automatic gates to move up and down. It's important to consider the height of the vehicle as it needs to be lifted high enough to let the vehicle pass through.
Benefits of Vertical Lift Gates
A space-saving option
Fast opening and closing operations
Low maintenance and repair requirements
Long operating life
Whether you have limited width space, an inclined driveway, or a tiny driveway, there is an automatic gate that can fulfill your needs. We hope this blog helped you get some knowledge on the top 3 most popular types of automatic gates for your home. We know that deciding on the right automatic gate for your home is no easy task. Let our gate experts help analyze your driveway and recommend the best option for you. Give us a call today at (866) 924-5102, or click here for a free quote.